DOUGLAS H. JOHNSON, DDS
DENTIST IN WASHOUGAL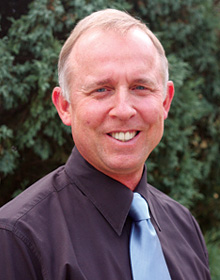 Since 1983, Dr. Douglas Johnson has been passionate about treating patients with serious dental problems, whether cosmetic or functional. Proper dental care can be a life-changing event for a patient who has severe dental needs, and correcting these issues brings Dr. Johnson much personal satisfaction when it comes to his profession.
Because every patient is different, it is always a unique challenge to best treat their dental needs and concerns. Dr. Johnson enjoys working with the team at Dental Excellence because they treat each patient as an individual, and strive to take care of each patient in a professional and gentle manner.
EDUCATION & PROFESSIONAL AFFILIATIONS
Dr. Johnson received his Bachelor of Science degree from Oregon State University in 1978. He went on to earn his Doctorate of Dental Surgery at the University of Washington and graduated in 1982. After dental school, Dr. Johnson completed his general practice residency through the US Air Force in 1983. Dr. Johnson proudly served in the Air Force as a dental officer from 1983- 1987. He is also a member of the following professional organizations:
Dr. Johnson is also very active in continuing education and offers patients the best that dentistry has to offer when it comes to remaining current with the latest developments in the dental field.
PERSONAL LIFE
Dr. Johnson is a native of the Portland, OR/Vancouver, WA area and currently resides in Vancouver, WA. He is happily married to his wife, Susan. In his spare time, Dr. Johnson enjoys playing golf and engaging in outdoor activities.
DENTAL EXCELLENCE