DENTIST IN WASHOUGAL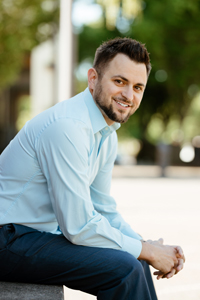 Dr. Repta was born in Romania, at the age of four his family immigrated to America. He grew up in Vancouver Washington, and later moved to Beaverton Oregon. From an early age, he learned to value the opportunities that lay before him. He took advantage of the higher education available to him and pursued a doctorate in dentistry.
Education & Professional Affiliations
Dr. Repta received his Bachelor of Science degree from Portland State University in 2010. He went onto earn his Doctor of Medicine in Dentistry from Oregon Health Science University and graduated in 2014. After dental school, Dr. Repta moved to the rural town of Riddle, Oregon where he worked as a general dentist for five years.
Dr. Repta is passionate about Mission work and has traveled to India and Haiti multiple times; as well as to Honduras and Mexico. He currently lives in Washougal and has family in the greater Portland area. He enjoys traveling to different counties, fishing, cycling, bee keeping, and snowboarding among many other outdoor activities. He is also a member of the following professional organizations:
American Dental Association
Washington State Dental Association
Oregon State Dental Association
Clark County Dental Society
Seattle Study Club